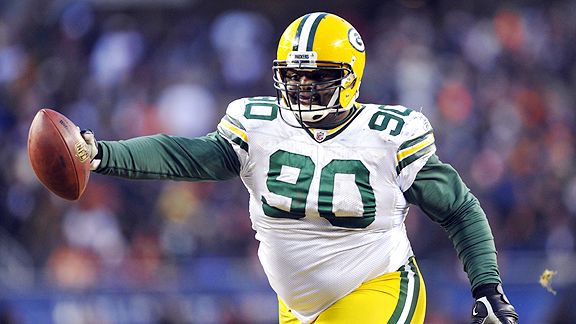 Packers vs. Bears
This game started out just the way I wanted it to, I figured the Bears wouldn't score all that much so as long as we put a few TDs up we should be able to win. Of course the Packers drove down the field in the 2 opening minutes and scored after 3 20 yard passes, picking up right where they left off last week. I did not expect the Bears to keep giving up points so I wasn't all that surprised to discover our newfound inability to score afterward. Fortunately the defense played extremely well (perhaps aided by the ineffectual Bears attack, sans Matt Forte) and we never lost the lead.
The game was 14-0 at half though it felt a bit too close for my tastes, while it may have looked boring to others. There were a ridiculous number of punts on either side, and while it's usually a bad sign when an announcer says it the punter actually did have an outstanding day and Devin Hester didn't do much throughout the game. Aaron Rodgers threw two picks, the first was fairly baffling, he tossed it at his receiver's feet and the guy managed to throw it up in the air right to a Bears' player. The second pick was his fault and could have made the game tied without a miraculous tackle post pick (a la Roethlisberger), but despite his Sanchezian 55 QB rating he wasn't really all that bad. He took a murderous helmet to helmet hit from Julius Peppers in the second half but managed to get up and still play effectively. One thing about the Packers is Rodgers makes the receivers look better than they are and occasionally they just decide to fuck it up and drop a bunch of easy catches in a row, such is the story of the second half. Jennings is pretty good but the rest of the staff are mediocre at best, Rodgers is just so good that they all looked amazing last week (and about as bad as they did this week the week before).
The Bears Offense suddenly got much better after losing it's first 2 Quarterbacks, though he was still fairly unreliable ultimately and threw two picks that clinched the game for us, including the Raji rumble into the endzone pictured above. It was a stereotypical "smashmouth" sort of game, as every Packers Bears game has been this year and has been in general. Even though it looked like we might blow them out early somehow they hung around to make it interesting. Hopefully Rodgers didn't have a concussion that he won't tell us about until after the Superbowl,
this hit
was the nastiest I've seen all year.
Score: 21-14
Steelers vs. Jets
I was hoping this game would be halfway decent
but it looked to be more of a blowout than the Packers game at half (24-3). Fortunately the mighty Sanchez decided to play good in the second half while being horrible in the first as is his wont. The Steelers offense suddenly became inebriated after driving effectively all game and didn't score at all in the second half and their defense also failed miserably. Presumably Rex Ryan gave some inspiring speech like "Football is about heart, here's this obscure military reference that has nothing to do with anything, now go out there and play inspired!" at half and this singlehandedly made the game close. I guess LT didn't listen though as he was stopped on fourth and goal in what would've given the Jets a solid opportunity to win the game (losing the ball and getting a Safety instead just cost them 4 minutes on the clock).
The Steelers had to get 2 first downs to win and did so in spectacularly dramatic fashion, with the second coming on a difficult low pass to clinch the game. Rex Ryan then threw his headset in a glorious display of "damnit I failed at my preseason prediction, the horror." If the Jets had beaten the Steelers they'd have beaten the top 3 seeds in the AFC much like the Packers have done in the NFC and we'd have 2 6 seeds in the Superbowl, instead we have two extremely storied franchises. I don't actively hate good teams in professional sports (except maybe the Colts) like some people might, I like the Yankees a fair amount, I think the Heat are interesting (though the Lakers and Celtics are pretty dull all things considered), and the Patriots stopped the Rams to win their first Superbowl after said Rams beat the Packers in consecutive playoff appearances so I don't have any enmity toward them either. However hopefully the Steelers of the second half show up to play tomorrows game whilst our Defense plays spectacular and Rodgers returns to top 3 QB form.
Score: 24-19
The two favored teams won as more or less expected so perhaps this wasn't a supremely interesting week of football but it was certainly much better than last week. Hurray for the Pack in the Superbowl! Boo Steelers. Now to find a Bears fan to prod with a stick.